Fix or Replace Glass Top Tables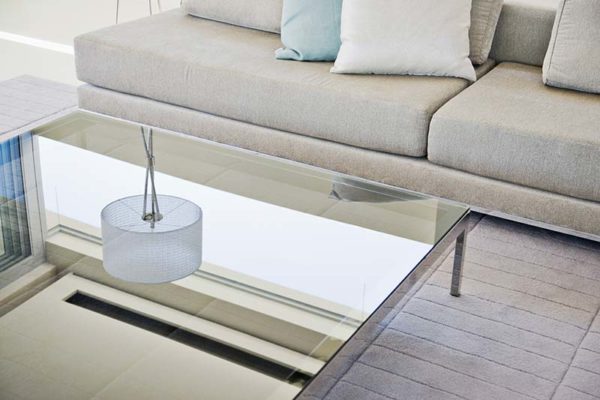 Glass tables are a gorgeous addition to any space – they allow you to show off the table base and they're easy to keep clean. However, over time, you may notice glass table tops can become stained, scratched, or even chipped. At Action Glass, we offer glass table repair and glass table top replacement to help you keep your furniture attractive and safe for the whole family.
Whether you have a residential or a commercial table that needs new glass, we offer custom fabrication options. We simply measure the current glass if possible and then craft a new commercial or residential glass table top that perfectly fits the base.
Our specialists provide glass table tops for a wide range of tables, including:
Kitchen tables
End tables
Coffee tables
Dining tables
Console tables
Patio tables
Whether you're looking for a residential glass table top to replace a broken one or want an updated look for your table, we have solutions for every situation.
Because we custom create the glass to suit your needs, we can manufacture nearly any shape you can imagine. Also, we offer glass table top options in regular flat glass or tempered glass for about four times the strength. We'll customize the glass thickness for an attractive, durable table. We also offer decorative options such as glass etching and beveled or polished edges.
What if you have a wood or metal table in your home? These materials can be vulnerable to damage like scratches, dents, and discoloration. A great way to protect your beautiful furniture is to use a glass table top cover, which sits over the table. This helps protect the material and also makes it easier to clean. Never again worry about your wooden table warping or your metal table getting scratched by using a gorgeous clear glass table top protector.
Glass Top Dining Room Table Accident?
Chips and cracks in your glass dining table can be an accident waiting to happen. Even minor damages can weaken the structure of the glass and make it more prone to breakage. If you have a shattered glass table that needs a new residential glass table top, we have solutions for you. Our experts will measure your table base to determine the right size, thickness, and type of glass for your needs.
In most cases, we recommend using tempered glass for dining table tops because it's extra strong. Tempered glass can withstand bumps, temperature changes, and other stresses, making it the perfect option for your table. The dining table is where your family gathers for quality time, so make sure it's strong and safe for you and your loved ones.
Whether you need a new dining table top or need a heavy duty commercial glass table top, our experts have solutions for you. We've been providing exceptional glass services to Houston residents and businesses since 1973. We understand the need for quick, outstanding service, high quality glass, and affordable pricing.
Contact us today to learn more about glass table top repair and fabrication and to request a quote for your needs!
Get A New View With Action Glass
As a full-service glass company, we offer repair, replacement, and installation services for auto glass, residential glass, and commercial glass. Our team works with you to find practical, attractive solutions for all your glass needs. Contact us today to request a free quote!