Repair & Installation of Storefront Glass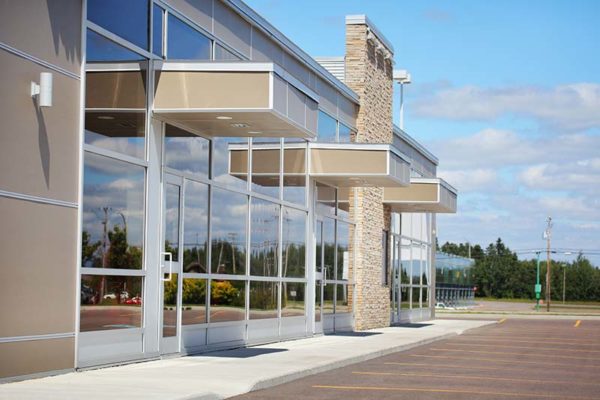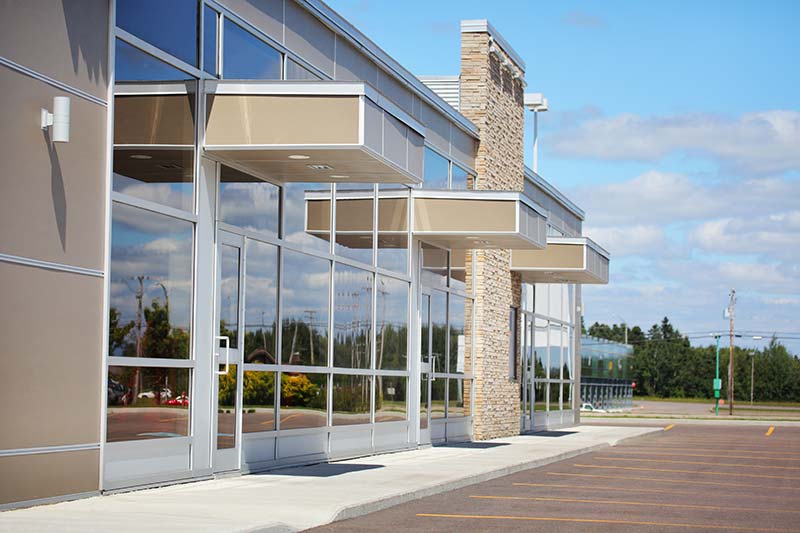 At Action Glass, we offer cutting-edge commercial storefront glass installation. We help you create an attractive, secure entrance for your business. Our team takes care of storefront glass frames and glass for simple, convenient installation. We offer high quality, ultra clear glass for maximum visibility. Attract customers into your brick and mortar store by displaying your most popular products. If privacy is a concern, but you want plenty of natural light to flood your workplace, we also offer decorative etching options for your commercial storefront glass.
When it comes to replacing storefront glass, you may wonder what the best option is for your business. Commercial storefront glass can be either tempered or laminated glass. Both are stronger than the standard flat glass you likely have in your home. However, in most situations, we recommend laminated glass for extra protection. Laminated glass stands up to strong impacts, like hurricane-force winds.
Laminated commercial storefront glass is like a glass sandwich – it is two or more layers of glass bonded by a layer of plastic or polyvinyl butyral for extra strength and durability. This type of glass is often used for things like windshields and aquariums. Laminated commercial storefront glass is designed to stay in its frame when it breaks. This can help reduce the chance of intrusion and injury.
Fix or Replace Commercial Glass?
Storefront glass emergencies can take many forms, from storm damage to vandalism and forced entry. Whatever the case, our team is available 24 hours a day, 7 days a week to help when you have an emergency situation with your commercial storefront glass. Call us any time day or night for prompt response and board-up services to help protect your business until we can repair or replace your storefront windows. We are here to help you get back to business as soon as possible with quick, high quality, and budget-friendly services.
Depending on the type of commercial storefront glass you have, our team at Action Glass may be able to repair storefront windows. Chipped or cracked laminated glass may be repairable using our specialized glass repair equipment. To repair, we can inject industry-approved resin into the area to help seal minor damages. For complex damage or chips and cracks in tempered glass, replacement storefront glass is often the best solution to help keep your store safe and secure.
Over time, every type of glass will start to show signs of aging. If your commercial storefront glass looks scratched, hazy, or discolored, it may be time to give your business a face lift with replacement storefront windows. Also, many modern innovations have made storefront glass more efficient. Newer windows can help reduce air leaks and heat transfer to help save you money on heating and cooling costs.
If you have broken commercial glass or just need a new storefront, our team at Action Glass is here to help you find practical, cost-effective solutions for your business. Contact us today to discuss your glass needs with our team and request a free quote!
Get A New View With Action Glass
As a full-service glass company, we offer repair, replacement, and installation services for auto glass, residential glass, and commercial glass. Our team works with you to find practical, attractive solutions for all your glass needs. Contact us today to request a free quote!